GASTRO-IT - SSK Pharma Product
GASTRO-IT ITOPRIDE HYDROCHLORIDE
Mode of Actions:
Itopride is a prokinetic benzamide derivative unlike metoclopramide or domperidone.
These drugs inhibit dopamine and acetylcholine esterase enzyme and have a gastrokinetic effect.
It is a combined D2 receptor antagonist and acetylcholinesterase inhibitor.
Indications:
Itopride is indicated for the treatment of functional dyspepsia and other gastrointestinal conditions.
Itopride is typically taken three times a day. The dose is usually taken on an empty stomach about an hour before meals. However, the dosage and details of administration may vary depending on the patient's age, symptoms, and other factors.
The drug helps with digestion as it increases the rate at which the stomach empties its contents into the intestines.
Dyspepsia of a non-ulcer/ dysmotility type delayed gastric emptying anorexia heartburn regurgitation bloating nausea and vomiting other possible gastric, prolactin, or dopamine related conditions.
Side effects:
The most common side-effects of itopride include mild to moderate abdominal pain and diarrhoea.
Some other side effects that may occur includes are rash, giddiness, exhaustion, back or chest pain, increased salivation, constipation, headache, sleeping disorders, dizziness, galactorrhea, and gynecomastia.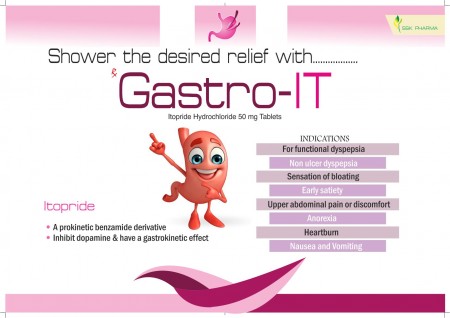 | | |
| --- | --- |
| Product Name | GASTRO-IT |
| Drug Formula | ITOPRIDE HYDROCHLORIDE |
| Manufacturer(s) | Goodman Pharmaceuticals |
| Product Type | TABLET |
| Packing Type | Blister |
| Packing Quantity | 10 |
| No. Of Units | 10 |
| Box Quantity | 10 |